It has recently (eh, it's a relative term) come to my attention that our house is going to become a little bit smaller... in only a few months. What does this mean? I'll give you another hint. It seems two boys in a three bedroom house will no longer have their own room to themselves. The Testosterone-Estrogen balance will swing a little closer to the middle this spring. It's exciting, but a few things need to happen before that time comes!
As our family is expanding, we have some options, as follows:
Move into a bigger house... not going to happen.
Make the house bigger... yea, that's not going to happen either!
Condense! (You should see me pack the car going on vacation!)
Of the three options above, condensing is the plan. So at the end of the day, or at least before May, we need to get bunk beds. I did a little research at the local furniture store and they want nearly $700 for some flimsy junk bed... THAT'S NOT GOING TO HAPPEN!
So let's skip to it... I'm building bunk beds. First stop, free plans on the internet!
Let's start
here
... I think this is the plans I have settled on and plan to build. These are based on plans for a
single mattress bed
made from 2x4's modified into a bunk bed (see below), although there are plenty of other designs on this guys site as well. If you like to build things with wood, you need to check out this guys site!
Woodgears.CA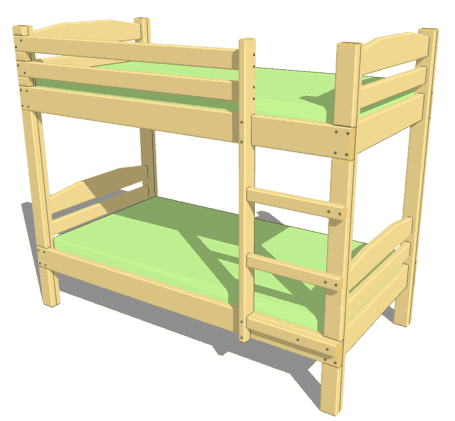 Complements of Woodgears.ca
Another option I really liked, for simplicity sake, is the
Plywood Bunk Bed plans
... free from the
Canadian plywood guys
. This looked like a super simple design and I was hoping to spruce it up with some rock gym holds off amazon or something, but the wife didn't like it. Oh well... here's a picture from the .pdf.
A Plywood Bunk Bed
There were a few other options out there, but these two hit the top of my list. Have any of you ever built a bunk bed? Have any plans you want to share? Feel free to chime in. If you are going to go out there and build your own, just be aware that a lot of the websites out there are just going after your money... you can probably find something better and free if you look hard enough!
A few other sources I found:
Handyman USA
A Tractor Bunk Bed
(A modified version of above)